The Cancer Genome Atlas (TCGA) program sequenced the whole exomes of 333 primary prostate cancers, with whole-genome sequencing of 19 cases of low mutational burden[29], representing the first well-powered survey of protein coding variants in localized prostate cancer. Using associated CNA, RNA expression, DNA methylation, and protein phosphorylation arrays, the TCGA team identified several consensus clusters of localized prostate cancer, including tumours harbouring an ETS fusion (~60%) and SPOP, FOXA1, or IDH1 mutation (~15%, collectively). Approximately 25% of localized prostate cancers did not sort into one of these clusters, perhaps suggesting the existence of additional molecular subtypes that could not be detected given the statistical power of the TCGA study and the relatively low mutational burden in localized prostate cancer. While TCGA identified molecular aberrations in several clinically-relevant pathways (e.g., PI3K, DNA repair, and other), the putative effects of these aberrations on clinical outcome could not be assessed due to the limited clinical follow up associated with the genomic findings. One potential clinical utility of Weischenfeldt et al.[72] surveyed the whole genomes of eleven prostate cancers arising in men 50 years of age or younger and compared these with seven propensity-matched prostate cancers of elderly-onset. While rare, these cancers in younger men represent a unique clinical challenge, and both the long natural life expectancy of these men and the increased clinical aggression of these early-onset cancers necessitates definitive local therapy. Interestingly, these cancers harbour a lower overall burden of structural variation, perhaps owing to the reduced time for acquisition of mutations, but possess a strong bias toward androgen-induced GRs - such as T2E - relative to cancers arising in older men. This was associated with increased AR mRNA abundance in early-onset prostate cancer. These findings suggest a unique biology of early-onset prostate cancer and pave the way for future studies to define the precise molecular mechanisms through which these cancers develop and evolve.
Clinico-genomics in localized prostate cancer
Well-powered, clinically-focused studies of the localized prostate cancer genome have proven difficult, relative to other solid tumour types, because of both the paucity of high tumour content tissue, particularly in low burden disease. Moreover, the development of clinically-meaningful endpoints (i.e., distant metastasis-free survival, overall survival, etc.) in localized prostate cancer can take upward of 10-15 years. However, recent advances in computational algorithms and decreases in sequencing costs have allowed for far more in-depth analyses than have previously been possible. Moreover, recent work has established reliable surrogate endpoints of aggressive disease.
Fraser et al.[10] performed a deep meta-analysis of prostate cancer whole-genome (n = 200) and whole-exome (n = 477) sequences published to date, with long-term clinical follow-up available for 130 patients with homogeneously staged disease. Using parallel array-based indices, the team identified a 6-feature clinico-genomic signature of adverse clinical outcome[10]. This signature is composed of a GR (a translocation on chromosome 7), two DNA methylation aberrations (TCERG1L hypomethylation, ACTL6B hypermethylation), SNVs in ATM, copy number amplification of MYC, as well as clinical T stage. This signature accurately predicts overall biochemical relapse and, importantly, also predicts relapse within the first 3 years following curative-intent treatment, which is a surrogate for lethal disease[5,73]. Despite these promising insights, much larger numbers of patients - with well-annotated long-term clinical follow-up data - will be required to both validate these findings and to establish the clinical implications of aberrations occurring below the 1%-5% recurrence threshold.
Spatio-temporal heterogeneity, tumour evolution, and clinical outcomes approximately 75%-80% of prostate cancers are multi-focal, as assessed at prostatectomy[74,75]. While multiple foci do not necessarily portend a more aggressive clinical course[74], the index lesion does not always correspond to the malignant clone that gives rise to distant metastases[76]. As such, an understanding of if and how inter-focal heterogeneity affects prostate cancer progression is of paramount importance. To that end, Boutros et al.[49] sequenced the genomes of eighteen spatially-distinct disease foci from five patients with intermediate-risk prostate cancer, with an additional sixty-nine cases evaluated using array-based assessment of genome-wide CNAs. Inter-focal heterogeneity was extremely high for all mutational classes. For example, in one patient, the total number of CNAs varied by nearly 2 orders of magnitude across five tumour foci, while the percentage of the genome affected by CNAs (percentage of genome altered; a metric of genomic instability and an independent prognostic factor[58,59]) varied by over 10-fold. Importantly, the index lesion was not universally associated with the highest burden of structural variants or SNVs, consistent with reports showing that metastases do not always arise from the index tumour[76]. Moreover, several aberrations with established links to progression and adverse outcomes (e.g., TP53 and PTEN deletion) were heterogeneous across tumour foci from the same patient, and one patient showed strong evidence of multiple independent tumours. Likewise, Cooper et al.[77] sequenced the whole genomes of twelve cancer foci from three patients, along with tumour-adjacent normal prostate epithelium from all three. The team showed compelling evidence of intermixing of cancer clones within a single cancer focus and identified a significant burden of tumour-associated mutation in morphologically normal prostate epithelium, consistent with a global "field defect" within the gland as a whole. These findings of extensive heterogeneity have subsequently been recapitulated in larger, independent cohorts. Løvf et al.[78] recently sequenced the exomes of 153 foci from 41 patients, including both malignant and putatively-normal prostate epithelium, and demonstrated that there is significant inter-focal heterogeneity, including genes with established prognostic importance or enrichment in metastatic or aggressive localized prostate cancers (e.g., NKX3-1, MED12, TP53).
Prostate cancer also shows evidence of substantial clonal divergence during tumourigenesis. Indeed, Espiritu et al.[9] recently demonstrated that only ~25% of localized, non-indolent prostate cancers are composed of a single clonal population ("monoclonal") within the index lesion. Conversely, 75% of cancers showed strong evidence of two or more clonal populations ("polyclonal"), which diverged into unique clonal "branches" early in the process of tumourigenesis and share very few driver aberrations (shared "trunk" mutations). Interestingly, patients who harbor monoclonal tumours almost never experienced disease relapse. Moreover, polyclonal tumours were more aggressive, and this aggression was synergistic with established molecular predictors of adverse outcome, such as the Fraser 6-feature signature (see above) and percentage genome alteration. These data strongly support the hypothesis that clonal evolution is a key determinant of clinical aggression.
Wedge et al.[79] similarly identified extensive subclonal heterogeneity and evolutionary divergence in both localized and metastatic prostate cancer. In particular, this group found that ETS-fusion status was a significant predictor of somatic CNAs at several loci, including amplification of 8q and deletion of the PTEN locus on chromosome 10. Conversely, tumours lacking a truncal ETS fusion were enriched for CHD1 deletion - consistent with the previous finding that T2E and CHD1 deletion are mutually exclusive - as well as CNAs at several driver loci, including BRCA2, RB1, and FOXO1. Intriguingly, subclonal analyses revealed that metastatic tumours are significantly less molecularly heterogeneous than primary tumours, consistent with selection of a small number of aggressive subclones during metastatic spread.
These findings of subclonal divergence have important potential consequences for the clinical use of molecular biomarkers. While no study has comprehensively evaluated the rates of metastatic seeding from the index lesion vs. independent foci, there is evidence that the highest-grade focus does not always seed the "lethal clone"[76]. As such, clinical biomarkers based on single disease foci - such as would be obtained from an index lesion-derived biopsy - may not accurately reflect the aggressive potential of the entire prostate. Despite this, biomarkers based on single tumour foci have shown excellent prognostic accuracy (AUCs of 0.85 or higher). While this may reflect a deficiency in the biomarker itself, it is also possible that biomarker accuracy is capped at ~85% due to inadequate profiling of multiple tumour foci. This is a major outstanding question in translational cancer genomics, and a robust understanding of the effects of heterogeneity will be required to optimize any tissue-based biomarker that ultimately achieves clinical implementation. One potential solution is the use of liquid-based biomarkers to complement tissue biomarkers, since these may better reflect the global mutational profile across tumour foci.
Toward clinical implementation of somatic tumour genomics in prostate cancer localized prostate cancer is associated with a very low level of recurrent non-synonymous mutation. Prostate cancer lacks the type of near-ubiquitous driver aberrations - frequently seen in other cancers such as chronic myeloid leukemia (BCR-ABL fusion), pancreatic cancer (KRAS mutation), or serous ovarian cancer (TP53 mutation) - which would suggest potential novel therapeutic targets. TMPRSS2:ERG fusion is present in ~40% of all localized prostate cancers, and peptidomimetic inhibitors of ERG have been developed[80], although none have yet moved beyond the pre-clinical stage and the potential for deleterious effect of ERG inhibition on non-prostate tissues may limit their therapeutic potential.
Moreover, traditional hypotheses regarding the utility of cancer genomics to identify potential drug targets may not be as relevant to localized prostate cancer as in other cancer types or, indeed, in metastatic prostate cancer. As noted, in PSA-screened populations, virtually all new cases of prostate cancer are diagnosed as localized disease, with no evidence of extra-prostatic spread by bone scintigraphy and are thus potentially curable. While 10-year prostate cancer-specific survival for localized disease approaches 99% irrespective of treatment modality[81], biochemical and metastatic relapse-free rates are more variable. These endpoints are established surrogates of PCSM[5,73], and the heterogeneity of outcome based on these endpoints has been borne out in longer-term studies[82]. Moreover, these endpoints represent points of clinical intervention, which can result in significant, life-long morbidities secondary to salvage therapy and chemical castration. Thus, given the curative potential of local therapy and the significant adverse effects of long-term salvage therapy after treatment failure, it is imperative that techniques be developed to better classify risks of treatment relapse in the localized setting. To that end, the potential utility of intrinsic tumour genomics as predictive or prognostic biomarkers has been explored by several groups.
CNA burden is an established independent prognostic factor for biochemical relapse[58,59], although recent evidence suggests that multi-omic profiling may more accurately classify aggressive disease than assessment of individual analytes alone[83]. To that end, a novel clinico-genomic signature, based on a CNA (MYC gain), two aberrantly methylated genomic loci (TCERG1L and ACTL6B), an SNV (ATM), an inter-chromosomal translocation (chr7:61Mbp), and clinical T stage, dramatically outperformed CNA burden for predicting rapid biochemical relapse in intermediate-risk disease[10]. Moreover, the performance of this signature is further enhanced by inclusion of tumour subclonality as a prognostic factor[9]. These signatures compare favourably to existing, FDA-approved classifiers based on mRNA abundance[58], and can be called based on tissue available in routinely-available, pre-treatment needle core biopsies[9,10,49,58,60].
Thus, while prospective validation of these biomarkers is required, it appears highly likely that genomic classifiers will vastly outperform clinical prognostic factors and have the potential to revolutionize treatment stratification for localized prostate cancer. Most prostate cancers are multi-focal[49,77], and there is substantial genomic heterogeneity associated with separate disease foci[49,77,79,84], including in genes with established prognostic value (e.g., MYC gain)[49]. Nevertheless, genomic signatures derived from the largest (index) lesion can predict disease aggression with accuracy of at least 85%[10], far exceeding the performance of established clinical prognostic factors. As such, whatever the influence of spatial heterogeneity on prognosis, it is largely accounted for within a single disease focus, although there are clearly cases where this relationship does not hold[76]. Thus, the question arises whether enhancements to prognostic signatures based on intrinsic genomics of single loci will further improve biomarker performance- due to inclusion of novel analytes, deeper profiling of rare variants, or both. It is likely that for a subset of prostate cancers, clinical aggression cannot be accurately predicted from the index lesion[76], and thus profiling of additional foci will be required for accurate triage. One possible solution to this problem is a movement toward the so-called liquid biopsy, which would reflect the aggregate of all cancer-associated aberrations and thus would, in theory, overcome genomic heterogeneity. Indeed, extra-prostatic extension can be accurately identified based on proteomic analysis of post-digital rectal examination urine[85], supporting the viability of this approach.
Ultimately, clinical trials are required to validate the ability of these tools to improve treatment outcomes for localized prostate cancer. One potential model is to provide a "signature score" for all patients; patients whose signature score portends a favourable clinical outcome would receive standard of care therapy, while those with adverse signature scores would be randomized to receive either standard of care or intensified therapy [Figure 2]. While the specific intensification strategies to be employed are beyond the scope of this review, they may involve additional therapies that are already approved for treatment of localized prostate cancer. For example, a man with intermediate risk disease who would ordinarily be treated with IGRT alone might instead receive radiotherapy plus neoadjuvant androgen deprivation.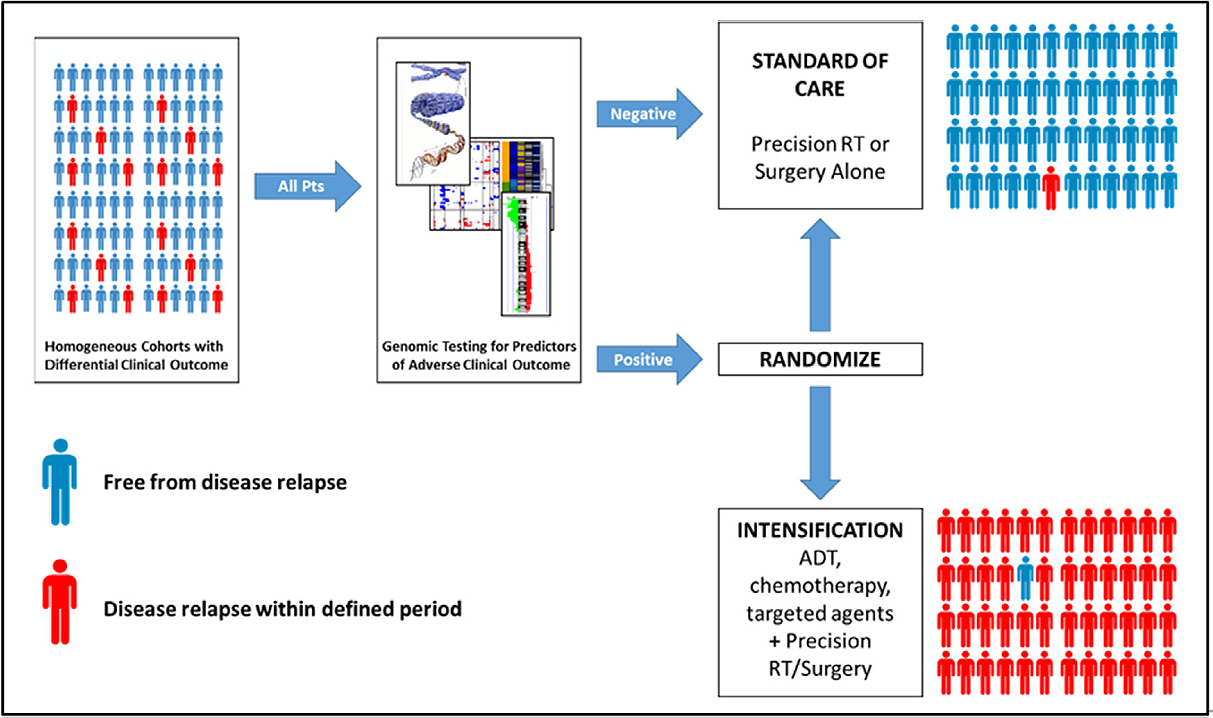 Figure 2. A model for clinical trials of prognostic biomarkers in localized, non-indolent prostate cancer. All patients newly diagnosed with localized prostate cancer receive a test to establish risks of disease relapse following local therapy, in addition to traditional stratification based on existing clinical prognostic factors. Patients whose test suggests a low likelihood of adverse clinical outcome receive standard of care therapy (i.e., precision radiotherapy or surgery). Patients whose test suggests a likelihood of disease relapse significantly higher than expected from clinical prognostic factors are randomized to standard of care or standard of care plus intensification, which may include (neo) adjuvant androgen deprivation (ADT), chemotherapy, or molecular targeted agents