Abstract
Transfer RNA (tRNA) modification and aminoacylation are post-transcriptional processes that play a crucial role in the function of tRNA and thus represent critical steps in gene expression. Knowledge of the exact processes and effects of the defects in various tRNAs remains incomplete, but a rapidly increasing number of publications over the last decade has shown a growing amount of evidence as to the importance of tRNAs for normal human development, including brain formation and the development and maintenance of higher cognitive functions as well. In this review, we present a synopsis of the literature focusing on tRNA-modifying enzymes and aminoacyl-tRNA synthetases (ARSs) that have been found to be involved in the etiology of hereditary forms of intellectual disability. Our overview shows several parallels but also differences in the symptomatic spectrum observed in individuals affected by intellectual disability caused by mutations in tRNA modifier and/or ARS genes. This observation suggests that tRNAs seem to assume diverse roles in a variety of cellular processes possibly even beyond translation and that not only the abundance but also the modification and aminoacylation levels of tRNAs contribute to cell functions in ways that still remain to be understood.
Keywords
transfer RNA modification, aminoacylation, intellectual disability, aminoacyl-tRNA synthetases, ARS, human cognition, cognitive impairment, brain development
Introduction
Cognitive impairment features among the most important problems in healthcare, one prominent example being intellectual disability (ID) with a prevalence between 1% and 3%. The majority of severe forms of ID have specific yet very heterogeneous genetic causes, including numerous X-chromosomal as well as autosomal gene defects and disease-causing copy-number variants[1-5]. Thus, with the exception of a few more prominent syndromes (for pertinent reviews see e.g., Salcedo-Arellano et al.[6], 2020, Glasson et al.[7], 2020, Antonarakis et al.[8], 2020), individual genes only account for an often extremely low proportion of cases.
Accumulating evidence, however, indicates that while there are no major players on a genetic level, there are functional contexts or pathways that play a prominent role in the etiology of hereditary forms of ID and are thus of major importance for the development and maintenance of higher cognitive functions. One such feature is the molecular and functional integrity of transfer RNA (tRNA), and we and others have recently put forward the notion that a full as well as a fully functional complement of tRNAs is vital for human cognition[9,10]. This is corroborated by the results of a survey of the recent literature, which shows a steep increase in the number of articles featuring tRNA-related issues in the context of impaired human cognition over the last few years [Figure 1]. In support of the hypothesis that tRNAs play a major role in the basis of human cognitive features, our review aims to provide a synopsis of the presently available literature on tRNA modifiers and aminoacyl-tRNA synthetases (ARSs) that were found to play a role in the etiology of cognitive dysfunction.
tRNA structure and function
tRNAs are important mediator molecules that facilitate the reading and translation process of the triplet genetic code from messenger RNA (mRNA) to corresponding polypeptides during protein biosynthesis[11]. The human genome contains more than 500 tRNA genes[12]; however, tRNA expression is cell- and tissue-specific and approximately half of the genes are not or poorly expressed[13].
The typical tRNA secondary structure, consisting of hydrogen-bonded stems and associated loops, is shown in Figure 2. This results in a complex three-dimensional folding of the molecule, so that in their tertiary structure all tRNAs assume an L-shape. The 3' end of this structure serves as the amino acid attachment site. The anticodon loop, which is exposed at the tip of the L-shape, is used for mRNA codon recognition. Base pairing with the first and third residue of the anticodon can be flexible so that some tRNAs can recognize various codons.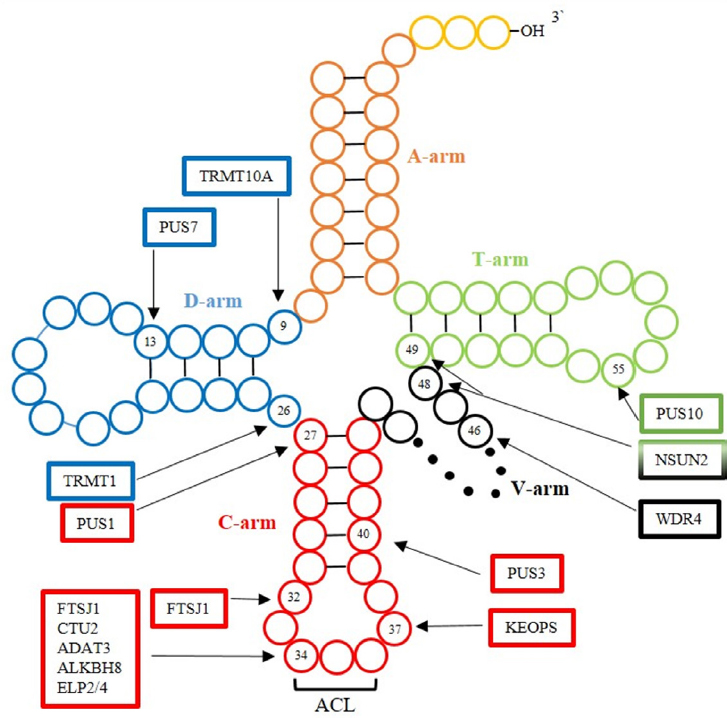 Figure 2. Overview of the main target nucleotides of the indicated tRNA modifiers involved in the etiology of ID. A-arm: acceptor stem; D-arm: dihydrouracil arm; C-arm: anticodon arm; ACL: anticodon loop; V-arm: variable arm; T-arm: ribothymidine arm; ID: intellectual disability
The translation of proteins from their coding mRNAs, where tRNAs play a central role, is an absolutely essential process. It begins with the formation of the pre-initiation complex, which is formed from the 40S subunit of a ribosome, the initiator tRNAMet, GTP and various initiation factors. mRNA binds to this complex at its 5' end and translation is initiated when a start codon (AUG) is recognized. Elongation starts with the binding of the initiator tRNA to the peptidyl site of the ribosome, the second binding site of the ribosome, and the aminoacyl site is then occupied by the next tRNA. A peptide bond is formed between the methionine of the initiator tRNA and the amino acid of the following tRNA. The ribosome then moves one position further on the mRNA and binds another aminoacylated tRNA. This elongation continues until a stop codon is reached, after which the polypeptide leaves the ribosome[14]. This happens at a rate of approximately ten tRNAs per second.
To ensure that protein synthesis runs smoothly, tRNA molecules are chemically modified[15-18]. These alterations include methylation (guanosine → 7-methylguanosine), deamination (adenine → inosine), Sulfur substitution (uridine → 4-thiouridine), intramolecular rearrangements (uridine → pseudouridine) and the saturation of existing double bonds (uridine → dihydrouridine). Some of the non-standard ribonucleosides are believed to be important for tRNA stability and folding, or to improve codon-anticodon recognition[19-21]. The wobble-uridine modification 5-methoxycarbonylmethyl-2-thiouridine (mcm5s2U), for example, was found to be associated with improving codon-anticodon recognition[22-25], and mcm5s2U plays a role in improving tRNA binding to the ribosomal aminoacyl-tRNA binding site[26]. Without the modification, reduced binding at the aminoacyl-site leads to downstream effects, including slowing of the ribosomes and associated protein folding defects[23,27-29]. Defects in tRNA modifications, which sometimes only represent a single atom, can trigger serious neurodegenerative diseases[30]. For example, if tRNA molecules lack only a single chemical group, protein biosynthesis can stop at innumerable sites in the mRNA (reviewed in Torres et al.[31] 2014). The result is an increase in protein aggregates that the cells can no longer remove. Nerve cells in particular are very sensitive to such aggregates, as is well known from Alzheimer's and Parkinson's diseases[27]. Moreover, ribosome profiling experiments have shown that ribosomes in cells with defects in tRNAs take longer to read certain sections of the mRNA[27]. The fact that protein biosynthesis does not occur at a constant rate plays a major role in this context, because changes in protein synthesis rate can influence protein conformation, as proteins take on their active form at the same time as they are produced[32].
Another important function in protein biosynthesis is performed by the ARSs. These enzymes are essential for translation, since they catalyze the binding of the proteinogenic amino acids to their respective associated tRNAs to form aminoacylated tRNAs.
There are 37 ARSs known - 17 occur only in the cytoplasm, 17 are mitochondria-specific, and three encode bifunctional proteins that charge tRNAs in both compartments[33]. It is known that mutations in genes coding for ARSs play an important role in many human inherited diseases, both with recessive and dominant inheritance patterns. In homozygous carriers, recessive mutations in ARSs often cause early-onset disorders with a severe course, not only affecting nerve cells but also impairing the function of many other tissues. A total of 31 of the 37 human ARSs have been linked to a genetic phenotype. These range from later-onset peripheral neuropathy to severe multi-system development syndromes[34-36] with ID.
In the following sections, we will first give an overview of tRNA modifiers that have been found to play a role in the etiology of hereditary forms of cognitive impairment, focusing on the major tRNA sites targeted by these enzymes. Subsequently, we will introduce the ID-associated ARSs known to date, based on their cytosolic or mitochondrial occurrence.
tRNA modification and ID
A list of currently known tRNA modifiers, which have been associated with ID, is given in Table 1 (see Part A).
Table 1
List of currently known tRNA modifiers (Part A: modification) and aminoacyl-tRNA synthetases (Part B: aminoacylation) that have been associated with ID
Gene
Mutation
Modification
Chromosome location
Localization
Recessive/dominant
ID
Microcephaly
Hypotonia
Ataxia
Seizures
Myopathy
Hypomyelination
Neuropathy
Others
Ref.
Part A: modification
FTSJ1
c.[192-2A>G] (G65Cfs*18);
c.[G121+1delG] (G41fs*V*19);
c.[196C>T] (Q66*);
c.[655G>A] (D219N)
Cm, Gm, ncm5Um
    Xp11.23
Cytopl
          Recessive
x
[37-54]
NSUN2
c.[679C-T] (Q227X);
c.[1114C-T] (Q372X);
c.[2035G-A] (G679R)
m5C
    5p15.31
Nucleus
          Recessive
x
x
x
[46-55]
WDR4
c.[509G-T] (R170L);
c.[509G-A] (R170Q);
c.[491A-C] (D164A);
c.[940dupC] (L314Pfs*16);
c.[911_927dup] (Q310Gfs*30)
m7G
    21q22.3
Cytopl/nucleus
          Recessive
x
x
[56-63]
TRMT1
c.[1506+1G-T];
c.[1332_1333delGT] (Y445Lfs*28);
c.[657_688del32] (Q219Hfs*22)
m22G
    19p13.13
Mito/nucleus
          Recessive
x
x
x
[64-70]
ADAT3
c.[382G-A] (V128M);
c.[99_106dupGAGCCCGG] (E36Gfs*44)
I
    19p13.3
Cytopl
          Recessive
x
x
x
[71-77]
ALKBH8
c.[1660C-T] (R554X);
c.[1794delC] (W599Gfs*19)
mcm5U, mcm5s2U
    11q22.3
Cytopl/nucleus
          Recessive
x
[78-81]
KEOPS
c.[407T-C] (L136P);
c.[446A-G] (Y149C)
t6A
    2p13.1
Cytopl/nucleus
          Recessive
x
x
x
[82-85]
TRMT10A
c.[379G-A] (R127X);
c.616G-A (G206R)
m1G
    4q23
Nucleus
          Recessive
x
x
x
[86-92]
ELP2
[chr18.31,993,951A-C] (T555P);
[chr18.31,990,536G-T] (R462L);
c.[1579C-T] (R527W);
c.[812A-G] (H271R)
mcm5U, mcm5s2U
    18q12.2
Cytopl/nucleus
          Recessive
x
x
[67,93-98]
ELP4
chr [11: 31,685,945] (G>T)
mcm5s2U
    11p13
Cytopl/nucleus
          Dominant
x
x
[97-101]
CTU2
c.[873G-A] (T247T)
mcm5s2U
    16q24.3
Cytopl
          Recessive
x
x
x
[102-107]
PUS3
c.[1303C-T] (R435X);
c.[1181_1182delCT] (S394Cfs*18)
Ψ
    11q24.2
Cytopl/nucleus
          Recessive
x
x
x
[56,108-111]
PUS1
C.[656C-T] (R116W);
c.[658G-T] (E220X);
c.[883C-T] (R295W)
Ψ
    12q24.33
Cytopl
          Recessive
x
x
[112-117]
PUS7
c.[89_90del] (T30Kfs*20);
c[.329_332delCTGA] (T110Rfs*4);
c.[1348C-T] (R450X);
c.[1507G-T] (D503Y)
Ψ
    7q22.3
Nucleus
          Recessive
x
[111,118,119]
PUS10
Ψ
    2p16.1-p15
Cytopl/nucleus
          Recessive
x
x
[56,107,110,120,121]
Part B: aminoacylation
AARS
c.[242A-C] (K81T);
c.2251A-G (R751G)
    16q22.1
Cytopl
          Recessive
x
x
x
x
[122,123]
RARS
c.[5A-G] (D2G);
c.[45+1G-T];
c.[1535G-A] (R512Q);
c.[1367C-T] (S456L);
c.[1846_1847delTA] (Y61Lfs*6);
c.[96_97del] (C32Wfs*39)
    5q34
Cytopl
          Recessive
x
x
x
x
[124,125]
DARS
c.[1459C-T] (R487C);
c.[1099G-T] (D367Y);
c.[821C-T] (A274V);
c.[766A-C] (M256L);
c.[1379G-A] (R460H);
c.[1480C-T] (R494G)
    2q21.3
Cytopl
          Recessive
x
x
x
x
x
x
[126]
LARS
c.[1118A-G] (Y373C);
c.[245 A-G] (K82R)
    5q32
Cytopl
          Recessive
x
x
x
x
[126-129]
MARS
c.[1700C-T] (S567L);
c.[1177G-A](A393T)
    12q13.3
Cytopl
          Recessive
x
x
x
[130-132]
YARS
c.[586G-A] (E196K);
c.[241_242GA-AT] (D81I)
    1p35.1
Cytopl
          Recessive
x
x
x
[133]
IARS
c.[3521T-A] (I1174N);
c.[1310C-T] (P437L);
c.[2974A-G] (N992D);
c.[2215C>T];[1667 T>C] (R739C);
c.[1252C>T];[3521 T>A] (R418X);
c.[760C>T];[1310C>T] (R254X);
c.[1109 T>G];[2974A>G] (V370G)
    9p22.31
Cytopl
          Recessive
x
x
x
[134-138]
SARS
c.[514G-A] (D172N)
    1p13.3
Cytopl
          Recessive
x
x
x
x
x
[9,129,139]
VARS
c.[2653C-T] (L885F);
c.[3173G-A] (R1058Q);
c.[3192G-A] (M1064I);
c.[2840G-A] (R947H);
c.[3355C-T] (R1119C);
c.[1300C-G] (L434V);
c.[2464G-A] (G822S);
c.[2825G-A] (R942Q);
c.[1210C-T] (R404W);
c.[219_232dup] (L78Rfs*35)
    6p21.33
Cytopl
          Recessive
x
x
x
[129,140-145]
QARS
c.[1426G>A] (V476I);
c.[1207C-T] (R403W);
c.[134G-T] (G45V);
c.[1543C-T] (R515W)
    3p21.31
Cytopl/mito
          Recessive
x
x
x
x
x
[146-151]
KARS
c.[398T-A] (L133H);
c.[517T-C] (Y173H);
c.[1129G-A] (D377N)
    16q23.1
Cytopl/mito
          Recessive
x
x
x
[129,152-158]
NARS2
c.[822G-C] (Q274H);
c.[641C-T] (P214L);
c.[969T-A] (Y323X);
c.[1142A-G] (N381S);
c.[637G-T] (V213F);
c.[167A-G] (Q56R);
c.[631T-A] (F211I);
c.[707T-G] (F236C);
c.[1184T-G] (L395R);
c.[151C-T] (R51C);
c.[500A-G] (H167R)
    11p14.1
Mito
          Recessive
x
x
x
[159-164]
PARS2
c.[836C-T] (S279L);
c.[1091C-G] (P364R);
c.[239T-C] (I80T);
c.[283G-A] (V95I);
c.[607G-A] (E203K);
c.[604G-C] (R202G);
c.[1130dupC] (K378fs*1)
    1p32.3
Mito
          Recessive
x
x
x
[160,163,165-168]
RARS2
c.[1024A-G] (M342V);
c.[35A-G] (Q12R)
    6q15
Mito
          Recessive
x
x
[166,169-173]
WARS2
c.[37T-G] (W13G);
c.[938A-T] (K313M);
c.[134G-T] (G45V);
c.532G-C (V178L) c.[298_300delCTT] (delK100);
c.[797delC] (Pro266Rfs*10);
c.[325delA] (S109Afs*15)
    1p12
Mito
          Recessive
x
x
x
x
x
[9,159,174-176]
The tRNA schematic in Figure 2 gives an overview over the main target nucleotides of tRNA modifiers involved in the etiology of ID, showing that there are 4 main sites that are of particular importance for human cognition: the C-arm (anticodon arm), V-arm (variable arm), D-arm (dihydrouridine-arm) and T-arm (ribothymidine arm).
Anticodon arm
The anticodon arm of a tRNA molecule contains the anticodon site and is the most heavily modified part of the tRNA molecule.
Currently, six different ID proteins catalyzing tRNA modifications in this tRNA region have been identified. These include the following enzymes.
Variable arm
The variable arm of tRNAs is located between the anticodon (or C) and the T arms. The length of the variable arm depends on the tRNA and can be between 3 and 21 nucleotides long. Generally speaking, class I tRNAs have shorter variable arms (between 4-5 nucleotides) than class II tRNAs (> 10 nucleotides)[206,207]. The variable arm functions as a stabilizer of the tertiary structure as well as in the specific recognition of the ARS. So far, two modifications of nucleotides in the variable arm by two different genes have been linked to ID.
NSUN2
NSUN2 (Nop2/Sun RNA methyltransferase family member 2) is one of three cytosine-5 tRNA methyltransferases and is responsible for methylating tRNAs that carry a cytosine at positon 48 or 49. There have been several reports linking mutations in the NSUN2 gene to ID[46,49,51,208]. Two reports observed a Dubowitz-like syndrome in patients[46,51]. Other common symptoms described include microcephaly, facial dysmorphism and growth retardation.
The likely molecular mechanism in NSUN2-deficient cells is increased angiogenin-induced fragmentation of tRNA which inhibits protein translation[55]. Methylation of cytosine at the variable loop in healthy cells protects tRNAs from binding to angiogenin.
WDR4
WDR4 (WD repeat domain 4) encodes the noncatalytic subunit of the tRNA (guanine-N7-)-methyltransferase which is necessary for the 7-methylguanosine modification (m7G) at position 46[62]. It has been described to cause primordial dwarfism, a phenotypically diverse syndrome with several subtypes, characterized by ID as well as pre- and postnatal growth deficiency[58,62,63]. More recently, WDR4 deficiency has also been linked to the Galloway-Mowat syndrome[57]. WDR4 knockouts result in a complete loss of m7G modification in tRNAs and consequently to disturbed codon recognition and ribosome stalling. It has also been shown that depletion of WDR4 in mice impairs the neural lineage differentiation capacity in mESCs[60].
D-arm
The D-arm of tRNAs is located between the anticodon and acceptor arms. It is of variable length, but the modification of the D-loop nucleotides is highly conserved in all kingdoms. Its function is mainly the stabilization of tRNA structure through tertiary interaction with the T-arm, but it is also involved in aminoacyl tRNA synthase recognition. Defects in two tRNA methyltransferases that modify different positions in the D-arm have been shown to cause ID.
TRMT1
The TRMT1 (TRNA methyltransferase 1) gene encodes for a tRNA methyltransferase that dimethylates G at position 26 in the D-arm of most tRNAs. It was first connected to non-syndromic ID in a deep sequencing-based screen for novel genes for cognitive disorders in 2011[67]. More recent reports confirm this finding and describe facial dysmorphism, general developmental delay and in some cases muscle weakness and spasticity as TRMT1-specific symptoms in patients[64,65,70]. Apart from decreased protein translation and cell proliferation, TRMT1-deficient cells show disturbed redox homeostasis and hypersensitivity to oxidative reagents, which might explain some of the neurological defects observed[69]. The causative mechanism at the tRNA level is still unclear; however, loss of m22G could affect tRNA structure or stability[209,210] or modulate translation activity[211].
TRMT10A
TRMT10A (TRNA methyltransferase 10A) is a tRNA methyltransferase that is responsible for methylating the G at position 9 of tRNAs (m1G9). A missing, shortened or otherwise non-functioning TRMT10A gene causes ID, microcephaly and general developmental delay[86]. Interestingly, some reports describe early-onset diabetes or hypoglycemia in patients with mutations in the gene[86,88,91,92].
A lack of m1G9 modification in yeast has been shown to play a role in tRNA stability and translation terminating efficiency[212,213]. In human tRNALys, which has an adenine at position 9, a lack of methylation prevented the tRNA to be folded into the cloverleaf form[214]. However, how exactly the lack of methylation is connected to the variety of symptoms is still not fully understood and continues to be the subject of ongoing research.
T-arm
PUS10
So far, no modifications on the T-arm of tRNAs have been shown to cause ID specifically. While microduplications or -deletions of the 2p16.1p15 locus, which contains the pseudouridine synthase 10 gene (PUS10) among several other genes, have been linked to ID and developmental and speech delay[215-217], there is growing evidence that in these cases, BCL11A is the cause for ID[218,219]. Still, it cannot be ruled out that PUS10, which pseudouridinylates tRNAs at positions 54 and 55, contributes to the phenotype, but clinical cases with PUS10-specific mutations linked to ID have not yet been described so far.
ARSs and ID
Cytoplasmic ARSs
The main task of ARSs is to transfer and bind amino acids to the appropriate tRNA molecules. The charged tRNAs are then used by the ribosomes to carry out protein synthesis. Their availability therefore plays an essential role in the regulatory processes of cell functions[220]. All ARSs are ubiquitously expressed and highly conserved. There is one ARS enzyme for each amino acid to facilitate binding with the appropriate tRNA. Of the 37 known ARS genes, 17 encode purely cytoplasmic enzymes[33]. Like mitochondrial ARSs (mt-ARSs), all cytosolic ARSs (ct-ARSs) are encoded by nuclear genes. They are complemented by three ARSs that function in both the cytoplasm and mitochondria to match the full complement of amino acids. It has already been mentioned that biallelic mutations in 31 ARS genes lead to serious recessive, early onset diseases, ranging from later-onset peripheral neuropathy to severe multi-system development syndromes. Here, however, we will focus only on ARSs, which have been found to play a role in the etiology of diseases associated with ID [Table 1, see Part B].
In VARS, for example, Friedman et al.[140] found different biallelic mutations in several families, leading to a very heterogeneous symptomatic picture including, developmental delay, epileptic encephalopathy and primary or progressive microcephaly. Another interesting case is the glutaminyl-tRNA synthetase gene (QARS). This gene encodes both the cytosolic as well as the mitochondrial QARS and shows a strong level of expression in the brain of the developing fetus. A very often found missense mutation (V476I) in QARS was shown to cause a reduction in its aminoacylation activity[148]. Mutations in QARS have severe consequences in affected individuals including not only ID but also progressive microcephaly, cerebral cerebellar atrophy and seizures that are difficult to treat. Altogether 11 patients have so far been described with QARS mutations[147,149,151,221], all of whom consistently show a severe so-called global development delay but none reaching any significant milestone. An initially normal occipito-frontal circumference (OFC) quickly and clearly changed to postnatal microcephaly. Various degrees of severity of ID from mild to severe were described in several case studies [Table 1B]. In addition to other serious symptoms, the condition is ultimately fatal for a large proportion of patients[148]. These examples shows the breadth and variability of the phenotypic spectrum associated with ARS mutations.
There are, however, recurrent motives among the features accompanying ARS-dependent ID, such as microcephaly, which is observed in carriers of mutations in AARS, RARS, DARS, LARS, MARS, YARS, QARS, SARS, VARS and WARS2[Table 1B]. An association with the occurrence of seizures (AARS, DARS, LARS, SARS, VARS, QARS, NARS2, PARS2 and WARS2) and hypotonia (AARS, DARS, LARS, MARS, YARS and IARS) is also frequently observed. Less common features among affected individuals range from ataxia, cerebral atrophy, neonatal choleastasis, muscular hypotension, infantile hepatopathy and hypomyelination to speech disorders and aggressive behavior. Finally, it should be mentioned that the non-canonical functions of ARSs could also be responsible for the wide phenotypic spectra that can be observed in the diseases related to their mal- or dysfunction.
Mitochondrial ARSs
Human mitochondrial ARSs (mt-ARSs) are essential for the synthesis of 17 mt-DNA-encoded proteins, which are all subunits of the respiratory chain complexes. Therefore, they are involved in the generation of the major source of cellular energy, i.e., ATP. Like cytosolic ARSs, all mt-ARSs are encoded by nuclear genes, which are, however, different from those coding for the cytosolic ARSs. Three ARS genes encode enzymes that are active in both mitochondria and cytosol: glycyl-tRNA synthetase (GARS), lysyl-tRNA synthetase (KARS), and glutaminyl-tRNA synthetase (QARS). Only QARS, however, has so far been found to be associated with an ID phenotype [Table 1B]. The first correlation between an mt-ARS mutation and a human disorder was published in 2007 by Scheper et al.[222], who found autosomal recessive mutations in the DARS2 gene in individuals suffering from leukoencephalopathy with brain stem and spinal cord involvement and lactate elevation (LBSL). Since then, numerous other pathogenic mutations in mt-ARSs have been described, so that to date, at least 17 out of the 19 mt-ARSs genes have been implicated in human genetic disorders involving damage to the central nervous system[35].
It is noteworthy at this point that in 2017, Moulinier et al.[223] introduced MiSynPat, an integrated knowledge base that links clinical, genetic, and structural data for disease-causing mutations in human mt-ARSs. According to the authors, this tool provides a "comprehensive knowledge base together with an ergonomic Web server designed to organize and access all pertinent information (sequences, multiple sequence alignments, structures, disease descriptions, mutation characteristics, original literature) (http://misynpat.org/misynpat/AboutMisynpat.rvt last accessed 2020-01-09).
Mutations in at least six mt-ARS genes (Table 1B - aminoacylation, including QARS) are involved in the etiology of ID. All of these lead to a syndromic phenotype. Mutations in NARS2 and PARS2, for example, cause Alpers syndrome, and homozygous RARS2 defects lead to pontocerebellar hypoplasia, which is characterized by not only overall delayed development, impaired brain development, movement problems and ID but also progressive atrophy, particularly of the pons and cerebellum. WARS2 mutation carriers show a phenotype that is very similar to patients with mutations in cytosolic SARS (Table 1B - aminoacylation). Other than that seen for ct-ARSs, there are no clearly prominent recurrent motives in homozygous or compound heterozygous carriers of mt-ARS mutations (Table 1B - aminoacylation) with the possible exception of seizures that are observed with a notably increased frequency (NARS2, PARS2 and QARS).
Conclusion
The literature compilation we present here makes a compelling case for an important if not pivotal role of a fully functional tRNA complement for the development and maintenance of higher cognitive functions. Interestingly, disease-causing ARSs mutations often only result in a reduction of enzyme activity without causing complete inhibition[158,224,225]. This points to the sensitivity of cognitive features towards even slight disturbances in this basic cellular process.
In addition, there is much evidence that tRNA molecules assume possibly unknown biological functions in eukaryotes, which have not yet been fully elucidated[17] but could be influenced by disruption of tRNA function. This opens up a myriad of further possibilities for tRNA involvement in the formation of cognitive features and underlines the importance of further research in this field.
Declarations
Authors' contributions
Made substantial contributions to the conception and design of the article, performed literature research and interpretation and were involved in the writing and editing of the manuscript as well: Franz M, Hagenau L, Jensen LR, Kuss AW
Franz M and Hagenau L contributed equally to the article.
Availability of data and materials
Not applicable.
Financial support and sponsorship
None.
Conflicts of interest
All authors declared that there are no conflicts of interest.
Ethical approval and consent to participate
Not applicable.
Consent for publication
Not applicable.
Copyright
© The Author(s) 2020.
Cite This Article
OAE Style
Franz M, Hagenau L, Jensen LR, Kuss AW. Role of transfer RNA modification and aminoacylation in the etiology of congenital intellectual disability. J Transl Genet Genom 2020;4:50-70. http://dx.doi.org/10.20517/jtgg.2020.13
AMA Style
Franz M, Hagenau L, Jensen LR, Kuss AW. Role of transfer RNA modification and aminoacylation in the etiology of congenital intellectual disability. Journal of Translational Genetics and Genomics. 2020; 4(2):50-70. http://dx.doi.org/10.20517/jtgg.2020.13
Chicago/Turabian Style
Franz, Martin, Lisa Hagenau, Lars R. Jensen, Andreas W. Kuss. 2020. "Role of transfer RNA modification and aminoacylation in the etiology of congenital intellectual disability" Journal of Translational Genetics and Genomics. 4, no.2: 50-70. http://dx.doi.org/10.20517/jtgg.2020.13
ACS Style
Franz, M.; Hagenau L.; Jensen LR.; Kuss AW. Role of transfer RNA modification and aminoacylation in the etiology of congenital intellectual disability. J. Transl. Genet. Genom. 2020, 4, 50-70. http://dx.doi.org/10.20517/jtgg.2020.13