Introduction
The usual method to identify the shortest regions of overlap (SRO) in contiguous gene syndromes relies on the graphical identification of the area of minimal overlap between deletions in patients sharing the same phenotype. Although this approach is very efficient when dealing with traits present in all the subjects who share the deletion region, it is much less productive when the trait is shared by some of the patients only. The usual way to overcome this uncertain correlation is to attribute an incomplete penetrance to the trait, a definition that may hide multiple factors such as the influence of any other genetic factors necessary for the manifestation of the trait, the differences in the breakpoints of the deletion involving any different dynamics of chromatin interactions between enhancers and promoters, environmental factors, or more simply inaccurate assignment of phenotype. Obviously, "non-penetrant" deletions may either overlap the disease locus (DL) or not include it, so that they constitute a limitation to defining SRO boundaries. However, they still strongly modulate the probability profile of the DL location along the SRO, i.e., the probability for the DL to map at a given position, considering the whole body of experimental data (i.e., all the deletions, either penetrant or non-penetrant, overlapping a given genomic position inside the SRO). In fact, the trait(s) considered in a given genomic region are often de novo and present in restricted numbers of subjects, so that the exclusion of even a single case can really be limiting to a correct locus assignment. Therefore, it is highly desirable to find a probabilistic model that, by considering also the "non-penetrant" cases, makes more reliable the assignment of specific traits to specific genomic portions. For this purpose, we propose a new genotype-phenotype correlation approach, applying our statistical procedure to interstitial deletions of 1q23.3-q25, of which more than 30 cases have been reported, with the imbalance being mainly de novo with the exception of three subjects who have inherited the deletion from the affected mother (Patients P10 and P17[1], Patient A[2], and Case 1[3]). These deletions are associated with a complex malformation condition consisting in proportionate pre- and postnatal growth deficit, cardiac malformations, small hands and feet with brachydactyly, intellectual disability (ID) of various degrees, and craniofacial dysmorphisms such as microcephaly, micrognathia, short nose with bulbous tip, dysplastic ears, elongated upper lip, and small chin have been reported in most subjects[1,3]. The relationship between the size and localization of the copy number variants and phenotypic abnormalities in thirty-five patients[1-9] allowed identifying three non-overlapping regions whose haploinsufficiency seemed crucial for the manifestation of some specific characteristics[1]. The SRO associated with growth and developmental delay has been progressively narrowed from 1.9 Mb[4] to a 179-kb region (chr1:172,460,683-72,281,412 hg19)[2]. A subregion of 2.5 Mb (chr1:164,501,003-167,022,133 hg19), located proximally to the SRO (SRO-P), adds further complexity to the observed phenotype, being more commonly associated with cardiac and renal malformations. A third distal region of 2.7 Mb (chr1: 178.514.910-181.269.712 hg19; SRO-D) could also contribute to intrauterine and postnatal growth retardation[1]. Finally, deletions involving SERPINC1 (chr1: 173.872.942-173.886.516; MIM: 107300) result in low antithrombin-III activity, a risk factor for thrombophilia. We present the detailed phenotypic and molecular description of six new cases whose partially overlapping 1q24q25 deletions were identified by chromosome microarray analysis (CMA). Four cases, each encompassing at least one of the three critical regions, were sporadic and identified by studying unrelated patients with syndromic intellectual disability. The fifth case, with a 1q24.3q25.2 deletion that did not involve any of the three critical regions, was ascertained in a newborn baby after the unexpected detection of the same deletion in the healthy father. The latter was studied as the parent of a previous child carrying two CNVs, neither of them located on chromosome 1, which later turned out to be both inherited from the healthy mother.
Discussion
In this paper, we describe six individuals with deletions scattered within chromosome 1q23.1q25 where three specific SRO deletion syndromes are reported: a proximal one of 2.5 Mb (SRO-P, chr1:164,501,003-167,022,133)[1], an intermediate one of 170 kb (SRO-I, chr1:172,460,683-172,281,412)[2], and distal one of 2.7 Mb (SRO-D, chr1:177,238,295-181,400,912 )[1][Figure 4].
In particular, two SROs (SRO-I and -D) are described as associated with IUGR resulting in short stature up to -5 SD, microcephaly up to -4 SD, small hands and feet with fifth finger clino-brachydactyly, and variable degree of ID, in addition to peculiar facial dysmorphisms[1,2,4,6].
Indeed, our subjects with deletion including both SRO-I and -D (Figure 4, Cases 2-4) exhibited all these features [Figures 1 and 2, Table 1]. On the contrary, our Case 5 with a de novo 1q24.3q25.2 deletion (5.9 Mb, chr1:172,667,560-178,548,677) that did not contain the SRO-I and only partly the proximal portion of SRO-D [Figure 4] has no ID or microcephaly, works in a qualified profession, and has a stature at the 25th percentile for the Sardinian population[7]. He also does not show any of the dysmorphic features [Figure 3A and Table 1] reported for the overlapping 1q24q25 deletions. However, his nine-month-old daughter (Case 6) with the same 1q deletion [Figure 4] had a history of IUGR and showed mild craniofacial dysmorphisms, including microcephaly (-3 SD), micro-retrognathia, and short neck [Figure 3B], as observed in our Cases 2-4 and in patients reported with overlapping 1q deletions including both the intermediate and distal SROs [Table 1].
Figures 5 and 6 illustrate the new SROs we defined according to the genotype-phenotype correlations emerging from our study.
SRO-P (chr1:164,501,003-167,022,133) was narrowed from 2.7 Mb to 38 kb (chr1:164,761,881-164,799,811) within a region involving exons 4-8 of PBX1 that in Figure 6A and B is indicated as N.1.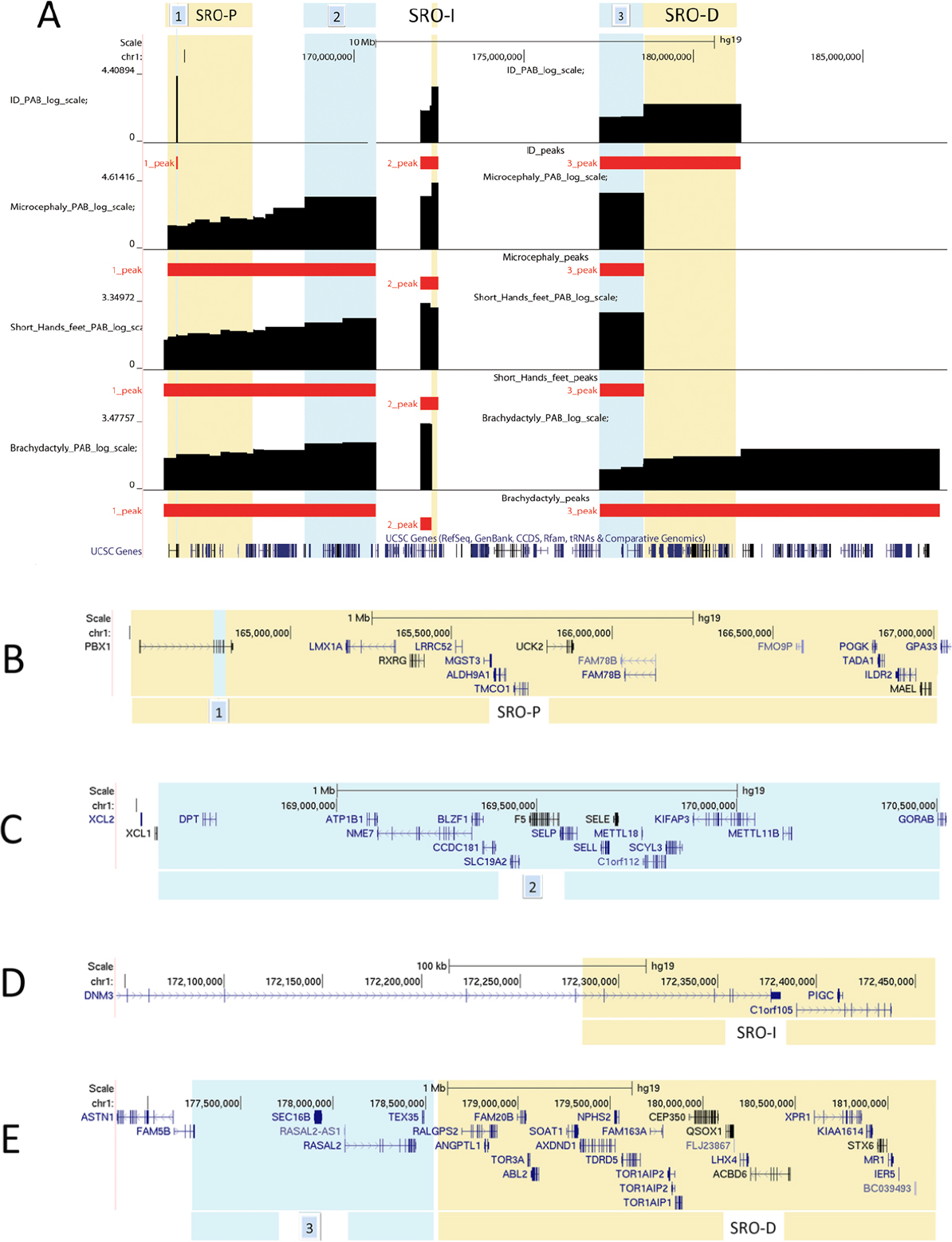 Figure 6. Overview of the short region of overlaps (SROs) and probability profiling of genomic regions linked to selected traits. A graph showing the estimated probability distribution of the genomic location of the DLs associated with the traits intellectual disability, microcephaly, short hands and feet, and brachydactyly (A); and magnified view of UCSC genes (GRCh37/hg19) mapping within the SROs (B-E)
This deletion is common to the 17 cases, including our Case 1, listed with an asterisk in Figure 5A with deletions ranging from 276 kb to 14.1 Mb. All have from severe to moderate ID but not microcephaly [Figure 5B]. The probability mass distribution at this region, as computationally calculated according to methods [Supplementary Table 2], shows that highest values for ID, kidney abnormalities, dysplastic ears, hypotonia, and speech delay [Figure 6A, Supplementary Figures 4 and 5].
Consistent with these findings, de novo, deleterious PBX1 sequence variants result in a highly variable syndromic form of intellectual disability, which includes external ear abnormalities and congenital defects of the kidney and urinary tract. In fact, most patients with 1q deletion including PBX1 have renal abnormalities and the association between Cakut syndrome and PBX1 variants/deletions is well demonstrated[15,16]. PBX1 alterations may also contribute to severe behavioral traits such as autism and obsessive-compulsive disorder[15]. Indeed, in addition to moderate ID, the phenotype of our Case 1 was characterized by repetitive movements and psychiatric traits resembling Tourette syndrome, such as obsessive-compulsive behavior with episodes of coprolalia and soliloquy [Table 1]. Interestingly, PBX1 gene has been recently identified among pleiotropic risk loci that play important roles in the neurological development processes associated with psychiatric disorders[17].
We also identified a 1.9-Mb genomic region (168,556,004-170,516,641) showing a high cumulative probability for microcephaly, brachydactyly, and short hands and feet [Figures 5 (N.2) and 6A (N.2)].
Within this region, the ATP1B1 gene [Figure 6C] shows the highest pLI value with observed/predicted scores indicating haploinsufficiency intolerance [Supplementary Table 3]. ATP1B1 (OMIM 182330) encodes for the subunit ß1 of Na,K-ATPase family, responsible for the homeostasis of the electrochemical gradients of Na and K ions across the plasma membrane. While mutations of the of Na,K-ATPase α-subunits have already been associated with neurological diseases (reviewed by Clausen et al.[18]), no confirmed mutations in any of the ß-subunits have yet been correlated with human disorders. Interestingly, ATP1B1, as part of an Na,K-ATPase multiprotein complex, interacts with the calcium channel TRPV4 (MIM *605427)[19] whose heterozygous de novo variants, either or missense, associate with skeletal disorders. Similar to our patients (Cases 2 and 3), those with TRPV4-related skeletal dysplasias include short stature, small hands and feet, and brachydactyly[20-22], suggesting a role for ATP1B1 in these disorders.
Deletions within SRO-I (chr1:172,460,683-172,281,412) show high probability to include a disease-locus for ID, microcephaly, and, as previously defined by Lefroy[2], skeletal anomalies including short hands and feet and brachydactyly [Figures 5 and 6A].
Specifically, the SRO-I includes Dynamin-3 (DNM3, OMIM *611445), a gene harboring a 7.9-kb antisense transcript for miR199-214 genes[23]. These two miRs are involved in vertebrate skeletogenesis[24,25], thus suggesting a role for the skeletal phenotype in 1q24 deleted patients[2,6]. Indeed, the phenotype of Cases 2-4 with 1q24q25 deletions fully including the DNM3, with its two guests miR199-214[Figure 6D], share significant pre- and postnatal growth deficiency, microcephaly, and small hand and feet with fifth finger clino-brachydactyly [Figures 1A and B and 2A and B, Table 1], as reported in all patients with a deletion including entirely DNM3[1-2,4,6] [Figures 5B-D and 6A].
In agreement with our data, our probability distribution profiles indicate that deletions for the proximal portion of SRO-D (chr1:177,238,295-178,548,677), indicated as No. 3 (SRO-3, Table 2), are significantly associated with microcephaly, ID, and short hands/feet [Figures 5A-C and 6A]; less with brachydactyly [Figures 5B and 6A], micro/retrognathia and hypertelorism; and not associated at all with kidney abnormalities, hypotonia, speech and walk delay, and dysplastic ears [Supplementary Figures 4 and 5].
BRINP2/FAM5B is the only gene of the region that is intolerant to haploinsufficiency but its role is unknown [Figure 6E and Supplementary Table 4].
In contrast, our probability distribution profiles indicate that deletions for the distal portion of SRO-D are significantly associated only with ID and brachydactyly [Figures 5A and 6A], although it should be noted that the microcephaly area of probability does not encompass this region due to the dubious effect of the deletion in our Patient 5. This region includes CEP350, RALGPS2, TDRD5, and XPR1 genes that are intolerant to haploinsufficiency; all have a low brain expression but none of them is thus far recognized as a disease gene [Supplementary Table 4]. In addition, LIM homeobox 4 (LHX4, OMIM 602146), a gene implicated in the etiology of congenital hypopituitarism[26] (OMIM #262700), was previously evoked as possible candidate gene for growth deficiency[7,27].
Altogether, we have to assume that deletion for the proximal region 1q23.3q24.1 (SRO-P[1]) is associated with kidney anomalies of high penetrance for total PBX1 loss [Supplementary Figures 4 and 5] and ID but not microcephaly [Figure 5]. Microcephaly is fully associated with deletions of more than one SROs (SRO-2, -I, and -D, Figures 6 and 7) and the most favorable new candidate gene is ATP1B1 in SRO-2.
Cases 5 and 6 are puzzling for the apparently different phenotypes in the presence of identical deletion. Indeed, Case 5 is a healthy adult and Case 6 is still a newborn with a nuanced disorder and perhaps would have been considered healthy if we had not incidentally identified the deletion in the father. Among genes mapping in their 5.9-Mb deleted region, between 172,667,560 and 178,548,677 [Supplementary Table 5], at least two are associated with systemic diseases: TNFSF4 (MIM *603594), related to systemic lupus erythematosus (OMIM#152700), and DARS2 (MIM*610956), involved in recessive leukoencephalopathy with brainstem and spinal cord involvement and lactate elevation (MIM#611115). None of these conditions were consistent with the clinical presentation of our Cases 5 and 6. We reasoned that the deletion might have unmasked a maternally inherited recessive variant in that region. However, WES analysis on the mother did not support this hypothesis, suggesting that other genetic or environmental factors may modulate the phenotype associated with this deletion. Indeed, the microcephaly, which is the main feature, observed in our Case 6, is a neurological sign that may be caused by a multitude of disease-causing genes with recessive or dominant inheritance[28]. However, by WES, we did not highlight any possible pathogenic variants in all genes associated with microcephaly having a frequency < 1%[28] that could explain this trait in our Case 6.
Similarly, IUGR, which characterized the prenatal life of our Case 6, is an end result of various etiologies that include maternal, placental, fetal, and genetic factors[29]. Looking at the clinical history of our family [Figure 3], IUGR was documented not only in the child carrying the 1q deletion, but also in her brother without this deletion (Subject III.2), and even in the IUFD at 39th week of gestation (Subject III.3). Indeed, by WES data, we identified in the mother's genome, two heterozygous missense variants, c.796C>T:p.R266W and c.1279G>A:p.A427T in TXBAS1[Supplementary Figure 3], a gene having a possible role in thrombotic events[30,31]. Since both variants are rare (AF< 0.001%), predicted deleterious in several databases, and almost certainly in trans, only one being present in the first son of the couple, the two variants most likely represent a risk factor for the recurrent pregnancy losses and IUGR observed in this family.
Taken together, the link between 1q deletion identified in this family and the phenotype in our patient remains elusive. A long-term clinical follow-up of our newborn patient will help to clarify whether this deletion represents a benign CNV or a rearrangement showing incomplete penetrance.
In conclusion, we confirmed and identified several genes whose haploinsufficiency appears crucial in the manifestation of the main phenotypic abnormalities associated with 1q23.3q25.2 deletions [Supplementary Table 6]. In particular, PBX1, in addition to its well-known role in kidney abnormalities, is strongly associated with ID and contributes to the behavioral traits along with psychiatric disorders. DNM3 and LHX4 are hereby confirmed as responsible for growth retardation[7,27] while ATP1B1 represents a new candidate gene for microcephaly.
It should however be underlined that, apart from SRO-1, the other three SROs contain genes belonging to different TADS, some of which are interrupted by the deletion (http://3dgenome.org).
We cannot therefore rule out that some phenotypic abnormalities are due to an altered expression of some of the non-deleted genes following the breakdown of the TADs, rather than the haploinsufficiency of specific genes[32].
Finally, we propose a method to computationally predict the probability that a given DL lies in a specific genomic segment. Although this approach may be hampered by long-term position effects of regulatory elements, synergistic cooperation of several genes, and incomplete clinical assessment, it can be useful, especially for contiguous gene syndromes that show a complex pattern of clinical characteristics. Obviously, functional approaches are needed to warrant its reliability.
Declarations
Acknowledgments
We would like to gratefully acknowledge the family participating in this study.
We thank Dr. Lucialba Rapisarda, expert in modeling and simulation of complex systems, for her useful advice in preparing probability related graphs.
Authors' contributions
Made substantial contributions to conception and design of the study, performed data analysis and interpretation, wrote the original draft: Fichera M, Bonaglia MC
Investigation: Saccuzzo L, Bertuzzo S, Cavallini A, Bonaglia MC
Provided clinical data: Marelli S, Cavallini A, Romaniello R, Kocova M, Citterio A, Fanizza I, Trabacca A, Pagliazzi A, Guarducci S, Giglio S
Writing - Review & Editing: Fichera M, Zuffardi O, Bonaglia MC
Supervision and acquisition of the financial support for the project leading to this publication: Bonaglia MC
Availability of data and materials
Data supporting our findings are published as supplementary information in the journal.
The software is available on request.
Financial support and sponsorship
This work was supported by the Italian Ministry of Health (2758027) to Bonaglia MC.
Conflicts of interest
All authors declared that there are no conflicts of interest.
Ethics approval and consent to participate
The study was conducted in accordance with the Declaration of Helsinki and national guidelines. Written informed consent was obtained from each subject's parent(s) or their guardian, and the study was approved by E. Medea Scientific Institute Research Ethics Committee approval (Prot. No. 007/15-CE).
Consent for publication
Not applicable.
Copyright
© The Author(s) 2020.