1Department of Toxicology and Cancer Biology, University of Kentucky, Lexington, KY 40536, USA.
2Department of Biochemistry, Purdue University, West Lafayette, IN 47907, USA.
3Markey Cancer Center, University of Kentucky, Lexington, KY 40536, USA.
Correspondence to: Dr. Xiaoqi Liu, Department of Toxicology and Cancer Biology, University of Kentucky, 760 Press Ave., Lexington, KY 40536, USA. E-mail: Xiaoqi.Liu@uky.edu ; Dr. Jinghui Liu, Department of Toxicology and Cancer Biology, University of Kentucky, 760 Press Ave., Lexington, KY 40536, USA. E-mail: Jinghui.Liu@uky.edu
Abstract
Prostate cancer (PCa) is the most commonly diagnosed malignancy among men, and the progression of this disease results in fewer treatment options available to clinical patients. It highlights the vital necessity for discovering novel therapeutic approaches and expanding the current understanding of molecular mechanisms. Epigenetic alternations such as DNA methylation models and histone modifications have been associated as key drivers in the development and advancement of PCa. Several studies have been conducted and demonstrated that targeting these epigenetic enzymes or regulatory proteins has been strongly associated with the regulation of cancer cell growth. Due to the success rate of these therapeutic routes in pre-clinical settings, many drugs have now advanced to clinical testing, where efficacy will be measured. This review will discuss the role of epigenetic modifications in PCa development and its function in the progression of the disease to resistant forms and introduce therapeutic strategies that have demonstrated successful results as PCa treatment.
Keywords
Epigenetics, prostate cancer, prostate cancer treatment
INTRODUCTION
Prostate cancer (PCa) continues to be the most common cancer[1] and ranks as the second leading cause of cancer-related death in United States of America males[1]. Numerous studies have documented that androgen receptor (AR) signaling continues to participate as a vital component to the development and progression of PCa. AR is a nuclear hormone receptor that becomes activated upon the binding of androgen ligands and dissociates from cytoplasmic chaperone protein HSP90, where it then can self-dimerize and translocate to the nucleus[2]. AR has the ability to bind to androgen response elements (ARE), which results in the transcription of target genes and contribution to prostate development and maintenance[2]. In early diagnosed stages of the disease, there are successful treatment options to prolong patient survival, such as medical or surgical castration that distribute AR binding, including radical prostatectomy, radiotherapy, or androgen deprivation therapy (ADT). However, PCa can reoccur after these interventions, which is referenced as castration-resistant PCa (CRPC).
CRPC is defined as cancer that continues to proliferate in the absence or depletion of testosterone, compared to early stages that require higher levels of testosterone for survival and formation, but AR signaling remains an essential contributor to PCa progression. This led to the synthesis of Androgen-Signaling Inhibitors (ASI), such as Abiraterone and Enzalutamide (ENZ), which targets androgen synthesis and AR, respectively. Though ASI treatment options have shown impressive results in reducing PCa, enviably, within several months, the disease will progress into terminal ASI-resistant PCa. Currently, there are several various areas of study arising to address the issue of overcoming ASI resistance. Abiraterone acetate is a hormonal treatment for metastatic CRPC (mCRPC) both before and after chemotherapy and significantly reduces androgen production by blocking the enzyme, which illustrates its efficacy[2]. ENZ is a second-generation nonsteroidal antiandrogen utilized in the treatment of mCRPC patients and has shown efficacy to provide patients with a reasonable quality of life[3]. Though there has been significant success associated with the administration of these treatments, resistance does occur with both Abiraterone and ENZ, possibly from the development of splice variants[3]. Wnt signaling has been extensively documented in its involvement in ENZ resistance. The inhibition of both canonical and non-canonical Wnt signaling has demonstrated positive results in re-establishing sensitivity to ENZ treatment in resistant cell lines and tumor models[3-5].
Additionally, we have established that 3-hydroxy-3-methyl-glutaryl-CoA reductase, a crucial enzyme in the mevalonate pathway, is elevated in ENZ-resistant PCa cells, and combination therapy of simvastatin and ENZ could result in significant inhibition of ENZ-resistant cancer cell proliferation in both in vivo and in vitro models[6]. Even in terms of AR splice variants, which play a critical role in the development and progression of CRPC[7]. Wang et al.[8] demonstrated that treatment with Malat1 small interfering RNA inhibits ARV7 expression in cell lines and significantly reduces tumor growth in ENZ-resistant xenografts. Additionally, Yamamoto et al.[9] demonstrated that using antisense oligonucleotides to target both the full-length AR and its splice variants resulted in a suppression of ENZ-resistant cell lines and xenografts proliferation. Due to the increase in understanding the molecular mechanisms that drive PCa, there has been a rising interest in epigenetics related to new therapeutic approaches.
Epigenetics is the study of heritable changes in gene expression, subsequently controlling fate, without affecting actual DNA sequences[10]. An abundance of exploration has been accomplished in epigenetics since it was first introduced and defined in the 1950s by Conrad Waddington. These recent discoveries have led to the emergence of operational mechanisms that are composed of three processing steps. These steps can be defined as epigenator, which is a signal that originates from the cellular environment and initiates downstream signaling pathways[11]. The epigenetic initiator, which triggers the epigenetic modification at a specific chromatin structure and the epigenetic maintainers that are epigenetic code responsible for ensuring several events such as chemical modifications on DNA or histones molecules, interacts between DNA, RNA, non-coding RNAs, protein, and other chromatin remodeling events[11]. Regarding the study of PCa, these aberrant alternations have reinforced the establishment of a context-specific translational profile that favors self-renewal, survival, and invasion and has demonstrated that the accumulation of epigenetic aberrations eventually causes genetic or genomic instability [Figure 1]. Additionally, AR is demonstrated to function in conjunction with various chromatin remodelers and epigenetic players that regulate prostate development and its progression to a malignant phenotype. This review will discuss the essential epigenetic alternations that are critical in comprehending PCa etiology and developments that highlight new biomarkers and therapeutic approaches to PCa.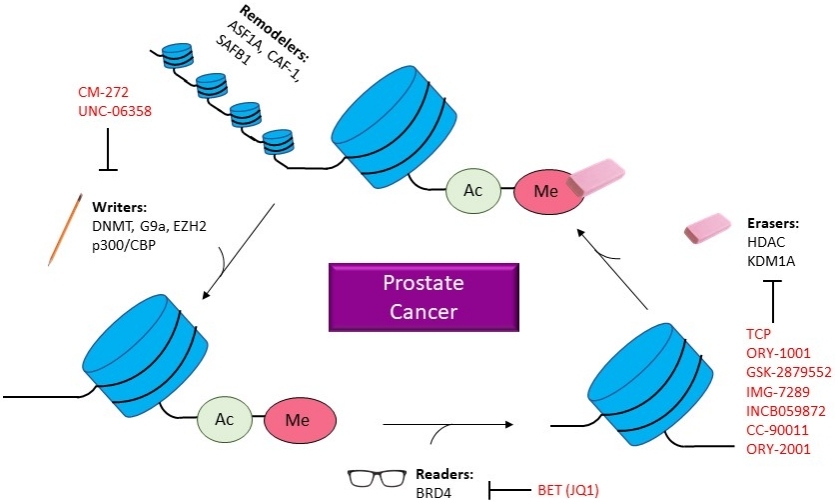 Figure 1. Epigenetics in PCa. Diagram illustrating how epigenetic changes related to prostate cancer and which inhibitors are in current studies. ASF1A: Anti-silencing function 1A hisotne chaperone; CAF-1: chromatin assembly factor 1; SAFB1: scaffold attachment factor B; DNMT: DNA methyltransferase; EZH2: enhancer of zeste 2 polycomb repressive complex 2 subunit; CBP: CREB-binding protein; BRD4: bromodomain containing 4; BET: bromodomain and extra terminal domain; HDAC: histone deacetylases; KDM1A: lysine demethylase 1A; CM-272: 6-methoxy-2-(5-methylfuran-2-yl)-N-(1-methylpiperidin-4-yl)-7-(3-(pyrrolidin-1-yl)propoxy)quinolin-4-amine; UNC-06358: 2-cyclohexyl-6-methoxy-N-(1-propan-2-ylpiperidin-4-yl)-7-(3-pyrrolidin-1-ylpropoxy)quinazolin-4-amine; JQ1: (S)-tert-butyl 2-(4-(4-chlorophenyl)-2,3,9-trimethyl-6H-thieno[3,2-f][1,2,4]triazolo[4,3-a][1,4]diazepin-6-yl)acetate; TCP: tranylcypromine; ORY-1001: idademstat; IMG-7289: bomedemstat HCL; INCB059872: 1-((4-(methoxymethyl)-4-((((1R,2S)-2-phenylcyclopropyl)amino)methyl)piperidin-1-yl)methyl)cyclobutane-1-carboxylic acid compound with 4-methylbenzenesulfonic acid (1:2); CC-90011: besylate; ORY-2001: vafidemstat.
EPIGENETIC REGULATORS OF PCa
CONCLUSION
AR has been a critical target for the treatment of PCa, and while ADT has been effective in preventing cancer cell proliferation, progression to a more aggressive phenotype is inevitable. In this review, we discussed the various epigenetic changes which contribute to the further advancement and progression of PCa via the activation of various oncogenic pathways. We also explored novel therapeutic approaches established by our lab and drug treatment strategies that have demonstrated impactful success. Due to recent discoveries in the understanding of the mechanisms of maintained AR signaling in castration-resistance PCa, targeting these epigenetic changes that facilitate AR target gene activation has a highly possible and promising potential in developing novel therapeutic approaches. Though whether targeting these factors' stability will produce toxic or ineffective effects is obscure, pre-clinical trial data gathered and documented by our lab indicates that clinical trial participation could result in highly efficient and optional treatment methods.
DECLARATIONS
Authors' contributions
Made substantial contributions to conception, material articulation, and editing of the review: Jones K
Provided administrative, technical, and material support: Zhang Y
Provided material support: Kong Y, Wang R, Farah E, Li C, Wang X, Zhang Z, Wang J, Mao F
Contributed to the conception and design of the review: Liu X, Liu J
Availability of data and materials
Not applicable.
Financial support and sponsorship
The work was supported by NIH grants R01 CA157429 (Liu X), R01 CA192894 (Liu X), R01 CA196835 (Liu X), and R01 CA196634 (Liu X). The work was also supported by the DTCB internal fellowship (Liu J).
Conflicts of interest
All authors declared that there are no conflicts of interest.
Ethical approval and consent to participate
Not applicable.
Consent for publication
Not applicable.
Copyright
© The Author(s) 2021.
Cite This Article
OAE Style
Jones K, Zhang Y, Kong Y, Farah E, Wang R, Li C, Wang X, Zhang ZZ, Wang J, Mao F, Liu X, Liu J. Epigenetics in prostate cancer treatment. J Transl Genet Genom 2021;5:341-56. http://dx.doi.org/10.20517/jtgg.2021.19
AMA Style
Jones K, Zhang Y, Kong Y, Farah E, Wang R, Li C, Wang X, Zhang ZZ, Wang J, Mao F, Liu X, Liu J. Epigenetics in prostate cancer treatment. Journal of Translational Genetics and Genomics. 2021; 5(3):341-56. http://dx.doi.org/10.20517/jtgg.2021.19
Chicago/Turabian Style
Jones, Katelyn, Yanquan Zhang, Yifan Kong, Elia Farah, Ruixin Wang, Chaohao Li, Xinyi Wang, ZhuangZhuang Zhang, Jianlin Wang, Fengyi Mao, Xiaoqi Liu, Jinghui Liu. 2021. "Epigenetics in prostate cancer treatment" Journal of Translational Genetics and Genomics. 5, no.3: 341-56. http://dx.doi.org/10.20517/jtgg.2021.19
ACS Style
Jones, K.; Zhang Y.; Kong Y.; Farah E.; Wang R.; Li C.; Wang X.; Zhang ZZ.; Wang J.; Mao F.; Liu X.; Liu J. Epigenetics in prostate cancer treatment. J. Transl. Genet. Genom. 2021, 5, 341-56. http://dx.doi.org/10.20517/jtgg.2021.19